Honda™ are renown for reliability and long life yet only make a small engine blower which is suitable for the PC50 Handpull paddock cleaner model but not powerful enough for the larger paddock cleaners.
All prices plus VAT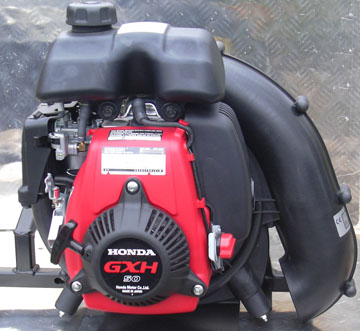 Honda™ GXH50 49cc 4-stroke Engine
Paddock cleaner manufacturer, Trafalgar Cleaning Equipment Ltd, have worked very close with Honda™ UK to design their own fan that works extremely well with the Honda™ GXH50 Engine - we think this makes them the market leader in this field.
The Honda™ engine is a powerful 4 stroke fan engine which runs on unleaded fuel, therefore no need to mix 2 stroke oil. It usually starts on the first or second pull and is somewhat quieter.
Honda™ engine servicing
A full service of the Honda™ engine can be carried out by any garden machinery dealer, preferably Honda™ or even yourself.
We can supply all spare parts and can normally dispatch same or next day.